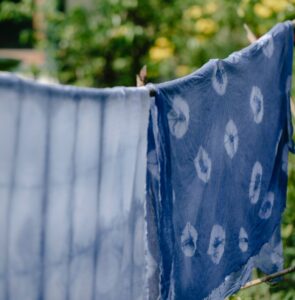 Of late, we have been hearing a lot of the word shibori. If the name doesn't sound very Indian, it's because it isn't!
Shibori is a Japanese resist dyeing method that made its way to India in the early 20th century; some say through Rabindranath Tagore! It's now practiced in Rajasthan, Gujarat, and Delhi.
The earliest Japanese shibori samples are from the 8th century. By the 18th century, there were about 150 different types of shibori techniques in use, and today, only about 70 remain. Like in India, there are people trying to keep this art form alive. Shibori comes from the Japanese word "Shiboru" which means "to wring, squeeze and press." Shibori creates beautiful designs by tying, stitching, folding, or compressing the fabric.
It looks similar to tie and dye, and it is. One of the shibori techniques is very similar to bandhani, the 5,000-year-old resist dyeing technique. Now, Shibori has been added to our repertoire. Shibori's blue is a throwback to the time the colour came from the indigo plant from which the ink was extracted. Today, it is not uncommon to see brightly coloured shibori, although purists scoff at the idea.
There are 6 major types of shibori techniques.
Kanoko Shibori
It is simple and close to the tie and dye technique.
Different shapes and patterns are formed with the help of strings and rubber bands.
Arashi Shibori
Arashi means "storm" in Japan. Look at the picture and you can easily guess why.The cloth is first tied to a pole or PVC Pipe and then wrapped around by a strong yarn or strings to create those beautiful designs as the ink passes around them.
Itajime Shibori
Itajime means "board-clamping" and as you might have guessed, two pieces of carved wood with design clamps the fabric. This gives the fabric a symmetrically elegant design as the wood resists the dye.
Kumo Shibori
Doesn't this look like a spider web? That's exactly what it represents!
Here the cloth is pleated, twisted, or folded, and then tied with a string/rubber band to achieve the design that looks like a web.No standard pattern exists,but it's in the hands and minds of the artists.
Nui Shibori
In this type, the cloth is stitched as per the desired pattern and the threads are then pulled together to gather and ink the cloth.
This gives greater control on how similar the pattern will look on two different pieces.
Miura Shibori
This technique uses hooked needles which are used to pull together strings and then bind them.A ring is made with ten threads and they usually move from row to row.
At the end the pattern resembles water ripples.
Every design is unique on its own depending on where and how the threads are tied.
There are several more techniques of shibori, some of which are variations of the ones above. Now, you can check out our collection and see if you can identify the type of shibori!
Featured image courtesy: Teona Swift
---
Our Shibori products