Light and shadow.
Using this basic idea, this ancient art form of Andhra Pradesh has beautifully adapted to contemporary lifestyles. The artisans of Andhra Tholu Bommalatta, literally [leather] skin puppetry, have reinvented themselves to create products such as lampshades, to continue their traditional craft, while exploring sustainable markets.
Among the newer products, the handmade perforated lampshade is a perfect product for the translucent leather, and harkens back to its original use: a play between light and shade.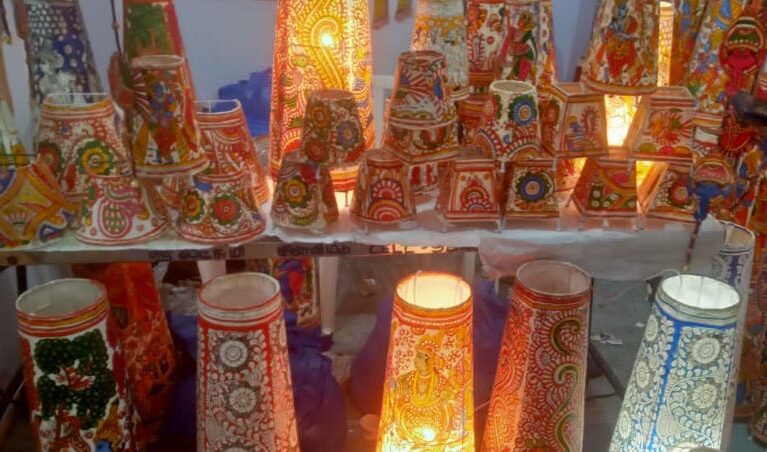 A few years ago, the Government of Andhra Pradesh gave the leather puppeteers of Nimmalakonta Village in Anantapur District a training program they will never forget: creating new products with their traditional craft of making leather puppets for the Tholu Bommalatta art form.
That training program, which included making lampshades, thorans, and other products,  gave the 60 artisan families in the village a new lease of life.
Among them was the family of Siddhi Hanumantha, 36, who can trace this craft back to six generations. "The puppet shows had dried up and we were really looking at stopping this art altogether, when we learnt new products," says Hanumantha. His father, Siddhi Anjaneyulu and brother Siddhi Chandrasekar are also engaged in the craft, with several awards, both national and regional, being bestowed upon members of the family.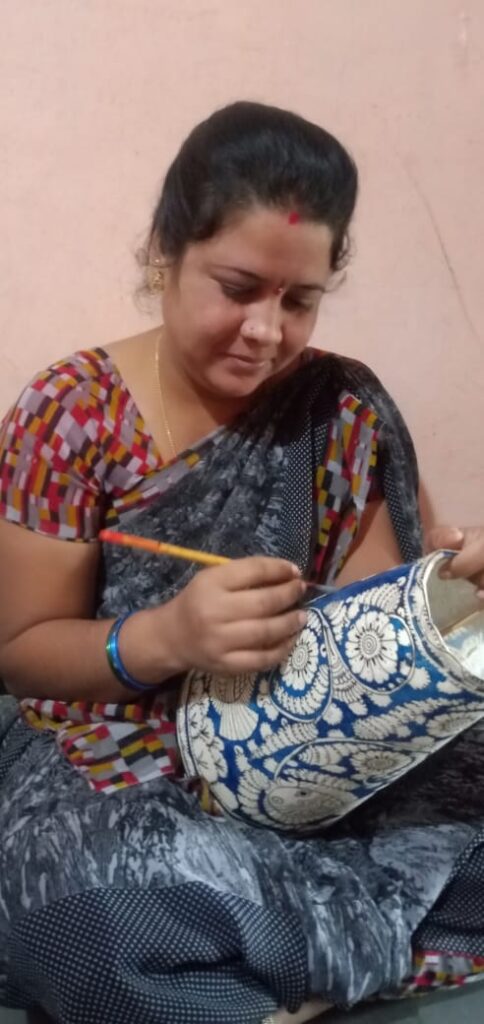 The Tholu Bommalatta, literally, dance of the leather puppets, likely originated in the Satavahana Dynasty. The British exiled them from there, suspecting them of performing anti-British puppet shows, and nearly 200 years ago, many of the families migrated further south, and many of them moved to Andhra Pradesh, Kerala, and Tamil Nadu.
After television and the inevitable decrease in the popularity of puppet shows, the craft and the art were separated, leading to newer imaginings of the craft in home décor.
One of the clusters comprises a group of five artisans headed by Raghavendra Khande in Dharmavaram. Each lamp, he says, takes nearly 21 days to become ready, from curing the leather to the final finishing. The artisans cure and prepare the raw goat hide; create the metal frames; and draw, paint, and perforate the leather canvas.
Exhibitions are the major outlets for the product, which came to a complete standstill during COVID. While there has been increased interest in the craft, reliable income is the challenge, say the artisans.
While the products are relatively-fast moving, and Raghavendra's three children help out whenever possible, they do not see it as a viable career option, says Raghavendra. A lack of a formal market for these makes this an unstable option, he adds.
"Hopefully, we can find a good market for our new products, so we need not move out of this craft," he says.
---
Our Tholu Bommalata Products